"I saved a ton of time and money by using Poker Refugees. I would absolutely recommend them to a friend or use them again should the need ever arise. Kristin and her staff were great and answered all of my questions promptly. Using Poker Refugees definitely eases the stress that comes with moving to an unfamiliar country."
-Anonymous poker player & Poker Refugees client, Costa Rica
With no idea where to begin, Poker Refugees made moving to a foreign country seem like something I have done several times before. Poker Refugees ensured a seamless transition so I could focus solely on studying and grinding, saving me an extreme amount of time. Simply put, they are awesome.
-Anonymous poker player & Poker Refugees client, Canada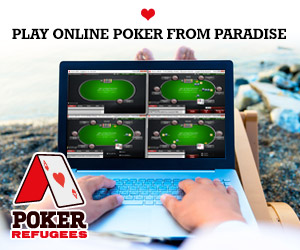 Real reviews from real players who are probably doing this right now…
We know that customers like to shop around and research before they buy – whether that purchase is a nice dinner out, a new laptop or simply a cup of coffee. Heck, that's why Yelp, FourSquare, UrbanSpoon, TripAdvisor etc are all so popular. Everyone depends on reading reviews and leaving them to make the world a better place these days, to help make informed decisions on what you buy and help others do the same.
As one player says:
"Getting second opinions and talking to other poker players is always a good idea but for a solid foundation and hassle free time Poker Refugees is the way to go. anything you want or need will be taken care of for you in the fastest way possible."
-Animalettiere, TwoPlusTwo
We know our players are busy playing poker for a million hours a day, but we do ask them to leave reviews to share with other poker players. We really appreciate their time writing a review because it helps others who may be in the same boat.
Many of our reviews are left in anonymous customer feedback surveys. We make our surveys anonymous because we truly want to know what players think and keep improving our services every day. We don't want to pressure players to leave reviews or put them on the spot, so we give them the option to leave one or not in the surveys.
Below are a few testimonials collected over the past year that we hope can help other players out there understand what the Poker Refugees relocation service is like and the many ways we try to help players!
We know that all poker players have a choice of whether they relocate on their own or with our help, and we want to make that decision an easy one.
We have all the reviews listed by city and country when the information was available. There are also more public Poker Refugees reviews on
TwoPlusTwo, here
and throughout the forums.
POKER REFUGEES PLAYER
TESTIMONIALS
Alex Johanek, Central Valley, Costa Rica:
"Kristin was very helpful when it came to relocating to Costa Rica. I did part of the process on my own and it wasn't easy. I really appreciated how much of the typical "Costa Rican run-around" I was able to avoid by using her services.

She also saved me a lot of money

on my cashouts by setting me up with Skrill and Neteller accounts."
Todd Piotrowski, Tamarindo, Costa Rica:
Woohoo! Thank you so much kristen for your endless hard work! We are so impressed with your team in Costa Rica, you made this move so easy, I could not imagine trying to do all that work myself. Thanks to you and your team, I had my bank account opened and all the proper documents to stars and tilt as well as playing online within 48 hours of my arrival!

Your services are priceless

, you have an amazing work ethic,

well worth every cent that you charge

for the complete relocation service! The rental property could not be better! I did not have a single hassle during the entire process nor do I have a single complaint!
you have a great team, you have a very impressive honest hustle going on!…I am impressed. I can only imagine the work going on behind the scenes!…I would never have wanted to do this without your help.
TIME FOR SCOOP!
Face Stealer (PokerStars), Escazu, Costa Rica:
Poker Refugees is a great service that

I would recommend to any Poker player

looking to relocate to an unfamiliar country

. They cater to saving their clients the headache, and (most importantly) the time it takes to get set up and back on the grind. Super easy to work with and extremely convenient.
Matthew Haugen, Windosr, Canada:
I was on a time crunch and Poker Refugees came through for me. They made the process easy and answered all of my questions. Great service.
Sasha Barrese, London, UK:
Poker Refugees is a fantastic all in one service and resource for relocation, they exceeded my expectations in every aspect. Kristin is smart, reliable, a pleasure to work with and gets the job done expeditiously…Kristin understands how important it is to get online as soon as you have relocated. She made sure we were up and running on the various platforms by the first night in our new home. There is NO WAY I would have been able figure all this stuff out on my own without losing weeks if not months of playing time.

Poker Refugees is a valuable resource for all players – there is no point trying to do all the hard work on your own

because Poker Refugees rates are affordable.

Working with them feels like family 🙂
Nick Coats, Rosarito, Mexico:
Poker Refugees was very helpful and made our first move out of the country much easier. Zoila was knowledgable about our city and Kristin was very attentive at every step in our relocation. Without this team, I do not think I would have ever been able to move my girlfriend and our dog out of the US, as they made moving to Mexico

much easier then I could have ever expected

.
Nick Desmedt, Windsor, Canada:
"Poker Refugees made my relocation

easier and faster than I ever could have made it on my own

. I found an out-of-this-world cheap room for rent."- Nick Desmedt
Lemagnif (PokerStars), Montreal (2013) & Playa del Carmen (2014):
I used poker refugees to relocate from Florida to Montreal. I've been up here since Aug 2013 and without her help the transition definitely would have been more arduous. Kristin helped set up a Canadian bank account, Skrill account, and all the documents that i would need to send to Pokerstars so that I could start playing again. [In 2014, I moved from Canada to Playa del Carmen, Mexico.] Together with Kristin I was able to find a really great apartment for me and my dog that was conveniently located and in a safe neighborhood.

Highly recommend to anyone who is considering relocation
James Romero, San Jose, Costa Rica:
Everything is great, thank you so much for help.

You crush this stuff
Alex Sokolovsky, Malta:
I used Poker Refugees services to move from Israel to Malta, luckily for me Kristin was there at the same time. She

helped me tremendously

, my relocation went through really smoothly and I had everything set up pretty much instantly. Although she is one person handling many players cases at same time she was always there to help for any need or request I had.
Seth LaFountain, Rosarito, Mexico:
I moved down to Rosarito on my own in November 2014. Everything was going great until I won a decent sized tournament on stars. Now they wanted me to verify my account. This process took almost a month and didn't even reach any significant conclusion. They wanted documents that I could not provide them (utility bills in my name, bank statements from down here). The reason I didn't have those two things was everything was still in my landlord's name and banks were turning me away saying I wasn't approved. I had no idea what their basis on that judgement was. Anyways, after a month,

I heard about Poker Refugees Service and contacted them explaining my concerns. Kristin was able to help me get set up in a super easy and efficient manner. I think everything basically happened over the course of no more than two days.

Now I'm verified on Stars, set up with eWallet services, and have a bank account down here to handle all my transfers. Thank you Poker Refugees!
Brian Pinkus, Vancouver, Canada:
Just wanted to post a few thoughts about my recent move to Vancouver and to thank Poker Refugees for their help. After having a good WSOP I was bummed that I would likely be spending another year without online poker. Last year I missed online poker so much that I even logged into the play money tables just to see what it looked like and to see if my account was even still there. After logging in I was sad to see that my avatar was gone ;-(

With the prospects for legislation dwindling yet again I suddenly realized I needed to get off this merry-go-round. Feeling the need to finally take the issue into my own hands I started doing some research, but after reading through several threads I was even more confused. Thankfully one of the threads talked about a company called Poker Refugees.

The next day I was able to get Kristin from Poker Refugees on the phone. She was the first person that seemed to really be knowledgeable about the entire process. In addition unlike some of the threads, her general approach was "tell the truth". I wasn't about to go to a foreign country and lie to government officials as some suggested. Shortly after our conversation we set the date for my move. With Kristin's guidance she made the entire process truly effortless.

I can't explain the feeling that I had this weekend as I logged in for the first time and up popped my old avatar!!! I felt truly blessed sitting at my new desk playing WCOOP while watching boats in the harbor. Obviously my choice isn't for everyone, but for me I just decided to stop waiting for someone else to do something about it. I feel as if a friend has returned that I haven't seen in years. Lastly, if you can't tell by now I'm extremely grateful to Kristin for the hard work that she put into my move. I'm really rooting for her to do well given how far above and beyond she went in helping to process my move. If you are looking for help I wouldn't hesitate to recommend Poker Refugees!
Matt Watkins, Playas del Coco, Costa Rica:
You've done a wonderful job, and if i am able to return i will be sure to contact you.
SlickDonkey, San Jose, Costa Rica, TwoPlusTwo Forum Review:
Hey, I just wanted to give another excellent review to Kristin and the whole PokerRefugees gang. I just did a relocation to Costa Rica with the primary purpose of opening a bank account. After I did my own research, I realized how difficult it is to open an account there and that is when I found out about PokerRefugees. I also heard bad stories of people dealing with the realtors down there.
With Poker Refugees I saved an abundance of time on both the bank account and housing aspect of my trip. It may not have even been feasible to open a bank account there on my own without their service. I also had no headaches when it came to finding a lease or any anxiety that I could get scammed.
Kristin was extremely thorough with handling my situation and literally every small detail of the trip was outlined. This even included the best places to eat, bars, entertainment, etc, pertaining to my location.
I was picked up at the airport by their driver, Minor. He was a great guy and even took me grocery shopping before dropping me off at my apartment. The next day, [a Poker Refugees rep] took me to the bank with all the necessary documents and I had an account opened in literally 30-45 minutes. He then took me to the nearby mall where I was able to purchase a backup internet stick and a cell phone with the help of his translation. So I had all this accomplished within a day of arrival. I also was able to get my Skrill and Neteller running again and with instant VIP status on both thanks to Kristin's reference.
Again, the whole process is totally smooth and painless. I had a few doubts going in, but my expectations were exceeded and was very happy with the service.
POKER REFUGEES PLAYER TESTIMONIALS FROM ANONYMOUS FEEDBACK SURVEYS:
Anonymous, Canada:
You guys were great. Even with all the travelling and moving around I was impressed with your response times effort. I don't know how you keep the hours you do but I was impressed. And not only do you offer great service but you obviously have the connections to get through to the gatekeepers. I wasn't expecting that but I felt like I got the VIP treatment. I appreciate all the hard work. I will leave more of a testimonial on the other link but just wanted to convey my gratitude here. Thanks!!!
Anonymous, Costa Rica:
I saved a ton of time and money by using Poker Refugees.

I would absolutely recommend them to a friend or use them again should the need ever arise. Kristin and her staff were great and answered all of my questions promptly. Using Poker Refugees definitely eases the stress that comes with moving to an unfamiliar country.
Anonymous, Costa Rica:
I had a good experience. The internet was shaky at first before getting fixed, but I was expecting such hassles and it was very comforting knowing Kristin would be there to assist me with any troubles. The price is expensive but not overly so.

I'd say it's well worth the money.
Anonymous, Mexico:
I really appreciated Poker Refugees helping me set up my bank accounts, Neteller and Skrill accounts the first day so I could be up and running by my second day here. Kristin made me feel welcome to the city and gave me advice about restaurants, how to interact with the locals, and what I could do to speak better Spanish. It wasn't only a poker relocation. It was a CULTURE relocation. Me gusta Kristin mucho!
Anonymous, Canada:
With no idea where to begin, Poker Refugees made moving to a foreign country seem like something I have done several times before. Poker Refugees ensured a seamless transition so I could focus solely on studying and grinding, saving me an extreme amount of time. Simply put,

they are awesome.
Anonymous, Costa Rica:
Hugely appreciative of Poker Refugees services!
Anonymous, Costa Rica:
Had very high expectations going in, and they were exceeded. Thanks a ton!
Anonymous, Costa Rica:
Kristin and her team are awesome.

There is no way I could have done this without Poker Refugees.

There are so many moving parts to getting relocated and set up to play poker. Poker Refugees handles it all. I was playing the next morning after arriving.
Anonymous, Costa Rica:
I am so glad I hired your services!
Anonymous, Mexico:
Amazing service, glad you're there to help
Anonymous, Costa Rica:
I saved a ton of time and money by using Poker Refugees.

I would absolutely recommend them to a friend or use them again should the need ever arise. Kristin and her staff were great and answered all of my questions promptly. Using Poker Refugees definitely eases the stress that comes with moving to an unfamiliar country.
Anonymous, Canada:
I greatly appreciated the assistance with relocating. While I probably could have found a property on my own (though not as effectively), getting the necessary paperwork together for the bank and poker sites was a huge time saver.
Anonymous, Mexico:
Poker Refugees made my move to Mexico seem almost seamless

when it was a very big life transition for me to make. Kristin took care of the most important aspects of relocation which were property rental, banks for activation, and coordinating everything to make sure I was back and playing in no time! I arrived at night and the next morning I was already approved on all the sites I needed. I could not have done this without Poker Refugees and I thank Kristin and the team so much! I will definitely be contacting them if I ever decide to move again!
Anonymous, UK:
You guys are perfect. You

exceeded all my expectations.
Whenever we are having a challenging day, we just read some of these testimonials to remind ourselves why we work so hard!
Thank you to all the players (anonymous and otherwise) out there who have shared your genuine opinions on the Poker Refugees relocation service. We appreciate your time!